Today visits 3, Total visited 599 times
About Us
Yog Vashishth are Sanskrit words and is a famous book written by Saint Vashishth on subject Yoga. As our family belongs to Saint Vashishth Family and we have Daily Yoga classes also hence we select the name Yog Vashishth for our hotel which suits it. It takes just 2 minutes casual walk to reach the banks of Holy Ganges from the Hotel.
Hotel Yog Vashishth is a 3 star category hotel and is situated at one of the best areas in and around Sawargashram, Rishikesh – the Yoga Capital of the World, a serene and peaceful locale away from the main highway. Each deluxe room at Hotel Yog Vashishth offers breath taking views of the Himalayan Hills and a private quiet balcony area to relax, sip a cup of tea or just read a book to the sound of the wind kissing the hills.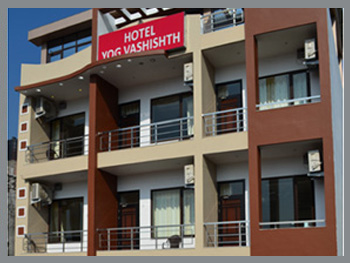 Rishikesh is the place where the holy Ganges meanders out of the hills and enter the plains, surrounded by the lush Green serene hills Garhwal Himalaya mountains. Sawargashram lies at the left bank of sacred river Ganges, where people comes from all corner of the world to make a holy dip in its water, learn Yoga. The river Ganges is a symbol of divine purity for every Indians and ultimate heavenly adobe for Hindus. The area of Sawargashram is thronged by Indian and International tourists throughout the year. Such is the divine testimonials for tourists.
A complete transformation of the hotel gives a splendor look and rooms are luxurious & comfortable. The hotel has been identified as a benchmark of clean and most modern and well furnished rooms with friendly & courteous staff. Hotel Yog Vashishth takes pride in offering its guests, national/international, a perfect & peaceful heavenly abode. It has the honor of serving many distinguished guests who appreciated for its hospitality.
The special feature of Hotel Yog Vashishth is that it suits budget, requirement. We are well known for hospitality, quality accommodation & courteous reception. The sacred Ganges River pours luminous blue-green from the Shivalik Hills on her journey to the plains. It is easy to see why Rishikesh (Lord Vishnu) was named 'Lord of the Senses' and why Uttarakhand, the state in which it lies, is known as DevBhumi – 'Land of the Gods'.
City of pilgrimage for Indians and Westerners alike, Sawargashram – Rishikesh is where the famous Beatles came to find a meaning to life with the Maharishi and stayed long enough to write over 50 songs! Many travelers still follow in their footsteps to de-stress learn yoga, study ancient philosophy and spirituality. Beatles ashram is only at 10 minutes walking distance from Hotel Yog Vashishth.
What is Hotel Yog Vashishth Contact Number?
8979200363
What is Hotel Yog Vashishth Address?
Near Vanprasth Ashram, Part-II, Swarg Ashram, Rishikesh, Uttarakhand 249304
Map
If you can't find your listing/business on Google Map or showing incorrect location then please contact us: +91-9837512000